Over the years we have received many wonderful updates & photos from our puppy buyers. We wanted to share a few photos here.
Adorable little Aubie at a
Pet Fashion show in Scottsdale
Thought you might enjoy seeing pics of Xi Shi. She is such a smart little girl...hard to believe she is 6 months old now. I am so glad I got her from you. thank you TRACY B. & Xi Shi
Thanks! Everyone just loves him! I have folks stop me all the time in the pet stores or Home Depot (where ever I take him!) and tell me how beautiful he is! One gal was trying to convince me to grow his coat out show him. I was flattered! We just enjoy his playful attitude and am working with training him the basics!
If you have any new babies, I would love to see the photos! I hope to be able to get another down the road! JONI L. & MOOSE
Hi! I just wanted to thank you again for such a wonderful little puppy. We are so over the moon for her! She is super friendly to all people and dogs (except she barked for the first time at a Westie when we were at the vet Tuesday! I couldn't believe it!), and of course all the kids in the neighborhood want to take her home.
Her toy collection at this point is coming close to rivaling that of my six year old's! SARA C. & HEATHER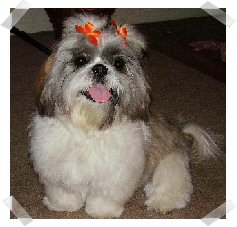 Maximus turned four years old this past January. He has been an absolute joy! He is soooo smart, our family and friends can't believe how very intelligent he is! We've taught him many tricks...LOL...I could go on and on about how much my husband and I love him!! I would just LOVE it if we could purchase another one from you !!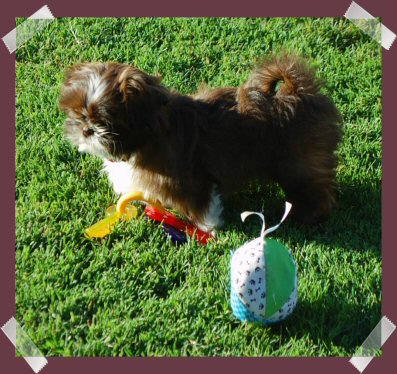 Here are some pictures of Ollie. We went to the Vet on Monday and Ollie is in perfect health, thank you.
My Vet said he is perfect and such a wonderful puppy. I am so happy. He is doing very good, playing in the yard all the time. He sleeps in his play pen all night and does not wake up until in the morning. He is a joy to have!
I just wanted to follow up with you on little Green (now named Sonny!)...he seems to be happy! He has lots of toys and is very spoiled... just chews on everything!!!
We are very happy with the new member of our family, and if any other families are interested in owning a Shih Tzu, I will definitely recommend contacting you! LAURA S. & SONNY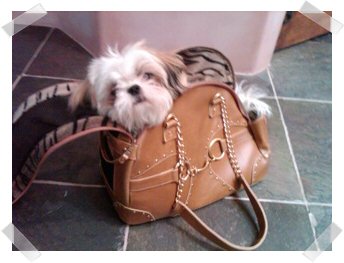 Wanted to check-in with you and see how you are doing, you have been in my thoughts and prayers. My "Perfect Puppy Panda" is the best decision I have ever made, she is such a funny little thing with tons of personality and goes everywhere with me. I only have to set her carrier down and she is ready to go....
Everyone loves her, and maybe it's time for me to get her a playmate. I wouldn't consider getting a puppy from anyone else!
Warmly Judie C.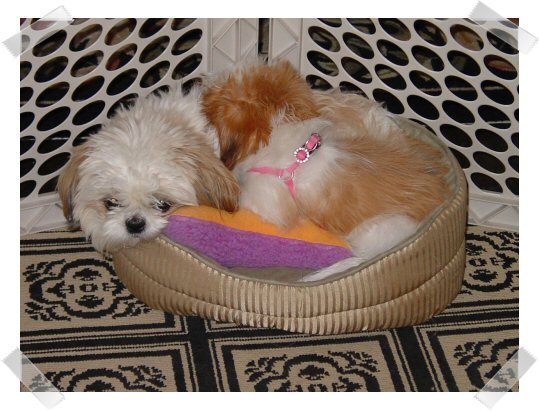 Panda and Bailey are perfect little ones, and they love each other so much, and are too funny to watch them play together. Judith C.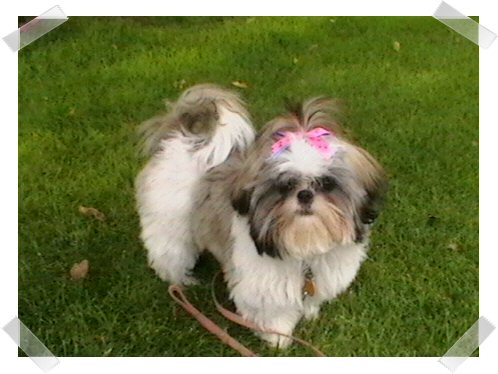 My mother, Jeanette W. purchased a little female from you this spring, Anya, and she is the love of her life. I have been very impressed with the puppy's disposition. I know you have a very strict policy in placing your puppies. My children have fallen in love with Anya and she is so gentle in reciprocating their affection.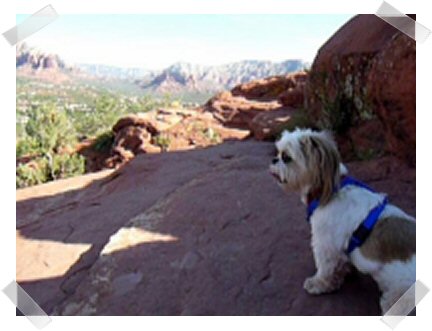 You delivered Suki to us a little over 2 years ago. We are thinking that we are ready to expand our little family and I was wondering if you have any littlers planned? As you can see, she's quite the little adventurer with us. We love her sooo much!!
She is such a good and well mannered dog that we never have to worry about her when we take her out were other dogs will be, such as the Power Paws 5K. Thanks for bringing this little blessing in to our lives! Jennifer J.


I just wanted to let you know that Zelda is quite possibly the cutest and sweetest dog that has ever existed!! My vet was quite impressed with her.
I'm thinking Zelda needs a sister. She is such a sweetie. Can you let me know when you are having puppies? BECKY O. & ZELDA
Hi, He is adorable. So playful and settling in good. Everyone we saw on our walk thought he is adorable and said what good looking dogs your dogs produce. NORMA B. & CODY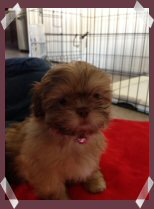 We named her Fergie. She's such a joy to have around. She is doing great !! She is so sweet ! We love her so much. Beatriz W. & Fergie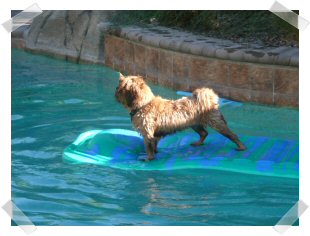 This is Flynn. We got him from you a couple of years ago. I just had to share with you what a great dog he is and how much he is loves by our whole family. He has enormous personality! He has been such a wonderful addition to our family! Very playful but yet calms right down when held!

I have never had a puppy that was so good. He's never met a stranger! What a fun fun dog he has turned out to be. We love him and he's such a joy to us. He has brought our whole family (mom,dad,3 kids) lots of laughter. Thank you so much! You breed such a fantastic dog! Linda M.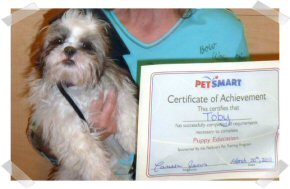 I purchased "Toby" back in January. Just thought you might like to see his recent puppy graduation photo from Pets Mart. He is healthy and a real joy! Everyone loves him. I'm waaay attached. Thank you, Kathy B.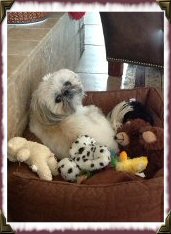 Christy, who just turned two on October 21, is in her own little bed with some of her favorite toys. We must have been busy, or she would've been in one of our laps. She's a delight -- everything we hoped for and more!
Her sister Coco, who lives with extended family, is only 7 pounds, but looks just like her. It's really hard to tell them apart if you don't know them. I had to finally look up your website because so many people have asked where we got her... Mary & Tom R.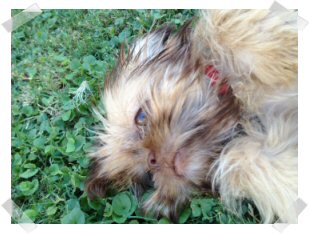 Our new sweet baby girl Rolo. We think we are in love already! Thanks so much, Rochelle B.
THOUGHT MAYBE IT WAS TIME TO GIVE YOU ANOTHER UPDATE ON OUR LITTLE GUY !!! HE LOVES TO PLAY AND BY NOW HE HAS HIS LITTLE TOYCHEST JUST FULL OF TOYS !!! THE BEST PART IS THAT HE LOVES THEM ALL !!! IT IS SO MUCH FUN TO PLAY WITH HIM - HE IS QUITE A LITTLE CHARACTER !!!
THIS TIME I CAN'T SAY MUCH MORE THAN HOW MUCH WE LOVE HIM MORE AND MORE EVERY DAY !!! HE IS JUST AS SMART AS EVER RASCAL HAS BROUGHT SO MUCH HAPPINESS TO THIS HOME AND WE CAN'T IMAGINE BEING WITHOUT HIM. STEPHANIE L. & RASCAL
Well Cooper continues to bring us laughs. I was loading the dish washer the other day and turned around to put in another plate and there he was sitting on the open door of the washer. He thinks he needs to fight with his bed and drag it around.
He definitely knows the word NO and is learning OUT and POTTY----and seems to be responding to his name. All in all we think he is great. ARLENE B. & COOPER
It is hard to imagine that the boys were born a year ago! We had a birthday celebration for them on Sunday. Life in Santa Barbara suits these guys very well. They love the outdoors and the beach. They are very sweet and are thriving.
We were able to capture a moment when they stood still. Kelvin (Boy Blue) is to the left in the photo, Woody (Boy Green) is to the right. STEVE S. KELVIN & WOODY