Our Shih Tzu are precious to us and we have named each of them for a Precious Gem.

Our Shih Tzu are 5 to 9 pounds.
Please note, not all our shih tzu are being used for breeding. Some of our shih tzu are spayed/neutered and have been placed in pet homes. As a hobby breeder, we usually only breed once or twice in a year.
All our Shih Tzu are AKC registered and OFA Health Tested.
No shih tzu of our breeding has ever been placed with breeding rights. Our Shih Tzu are exclusively bred by us only, and never have gone into the hands of any other breeder. All puppies sold as pets only, must be spayed/neutered, no breeding papers will be given.
Sterling is now a CHAMPION !!!
Sterling Sired by an AKC Champion
Silver & White
Sterling is a loving, affectionate boy who has
earned his CGC from AKC and has been Certified
as a Registered Therapy dog. We had great fun
in the conformation show ring earning his
Championship. With his joyful and enthusiastic
approach to life, he is the epitome of the well bred
shih tzu temperament. I have chosen all my
shih tzu using his excellent temperament as my guide.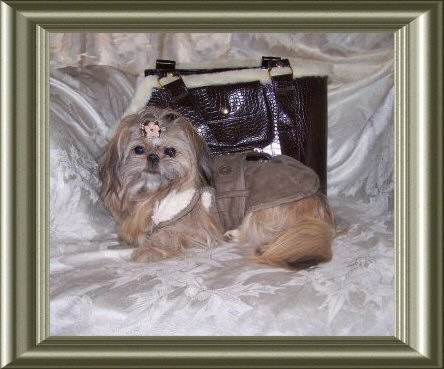 Our little Jasper, who gives us puppies in
Chocolate and Blue colors.
Jasper loves to come shopping with me and sits quietly in his bag. Anyone who thinks only girls are dressed up and carried in bags has never met my little Jasper. He gets all the attention, people are surprised to see it is a little boy being spoiled and carried around, and always make a huge fuss over him. He is adorable in his little boy jackets, sweaters and outfits in little boy colors.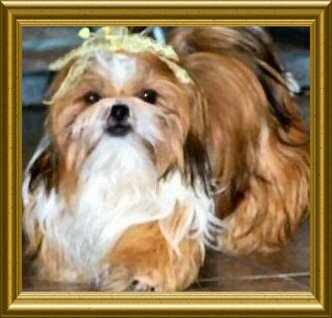 Ruby is a deep Red & White with black pigment and Black Tipping. She is a spunky, playful little girl, full of energy. She had fun prancing about the show ring.
When she is laying upside down in our arms like a baby, then she lies perfectly still gazing up at us, she loves to be held and cuddled.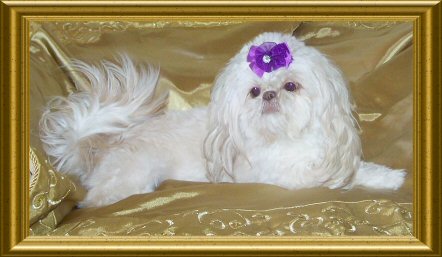 This little girl is Jade she is a White Chocolate with her chocolate nose and soft white color with just a touch of creamy chocolate shading her ears and tail.
Jade is sweet and loving little girl, she is always following us around. She will beg to be picked up as soon as you sit down, a true little lap dog.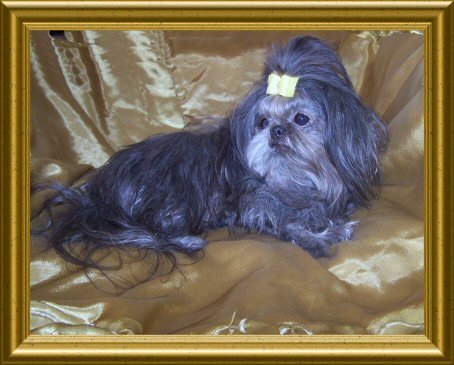 My gorgeous Blue Sapphire, it is hard to capture her true Blue color in a photo but you can clearly see she is a solid Blue with a blue nose.

Sapphire is my special little girl, she follows me everywhere and when she sees me dressing one of the other Shih Tzu in clothes or putting on bows, she gives a sharp little bark and dances about demanding to be dressed up too! Her special personality requires more of my attention and she is always with me.
Our little Sapphire is now retired from breeding, she has been given grandma status.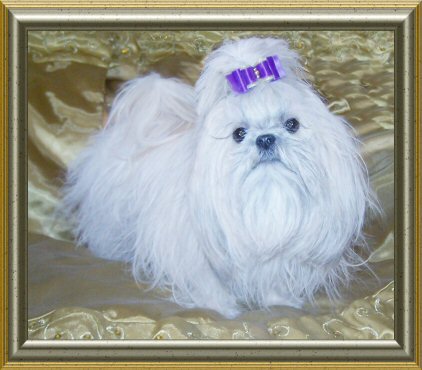 My adorable Pearl, she is a soft white/cream color. What a gorgeous little shih tzu, her beautiful appearance is matched by her loving heart, she is a registered Therapy dog and loves her visits.

Pearl like Sapphire is a favorite of mine, she follows me about and loves to get dressed up and have her hair fixed. When I am grooming the Shih Tzu she pushes past everyone demanding I do her hair and give her a bow! Pearl like Sapphire sleeps with me and goes everywhere I go.
Pearl has never been bred, she takes her job as a Therapy dog very seriously, no time for puppies for this career gal.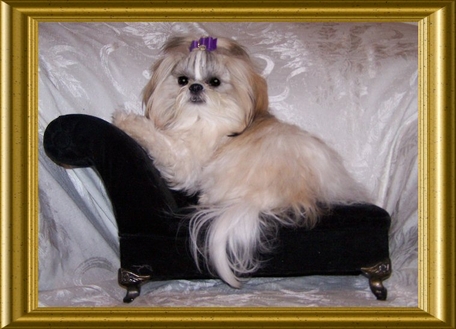 A gorgeous puppy we kept back for breeding.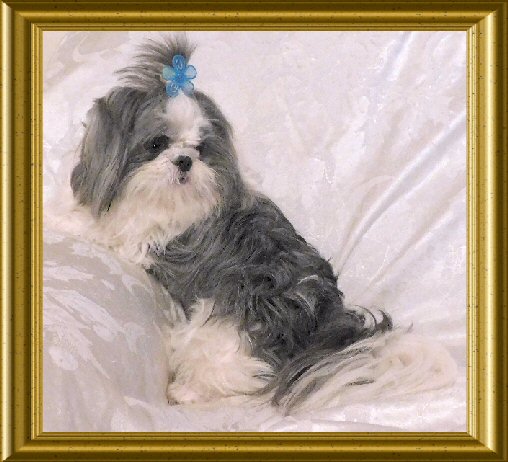 Another little puppy we kept for our breeding program

---
I wish I was a professional photographer and could capture all the true gorgeous colors and beautiful looks of our stunning, exclusive, breeding line of Shih Tzu. I try, but even their photos never capture their true beauty, some one always blinks, sticks out a tongue, jumps up to give kisses, the flash washes out color and gives red eye..... I am lucky to have gotten the photos I have!